30/06/2016
New Zealand Pride In Print Awards Release June 28 2016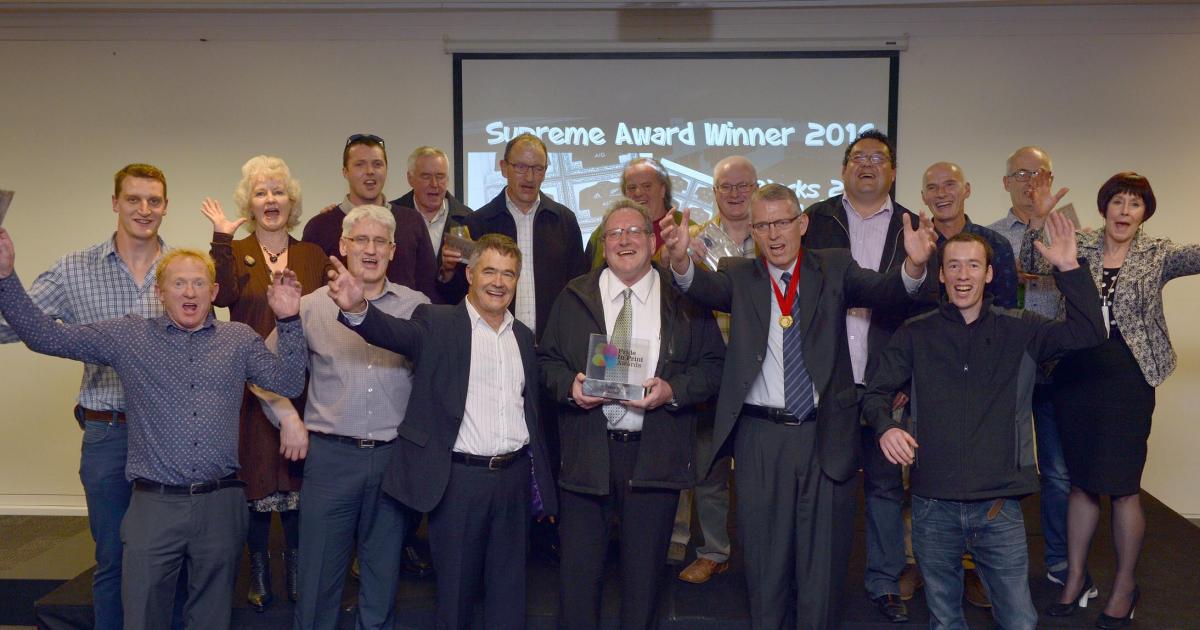 SOUTHERN COLOUR RECEIVES SUPREME PRINT AWARD
Mayor of Dunedin Dave Cull presented New Zealand's premier print industry award to local company Southern Colour Print at a ceremony in The Octagon.
Southern Colour won the coveted Supreme Award at the 2016 New Zealand Pride In Print Awards for New Zealand Post stamps printed on the fabric used in the Adidas jerseys worn by the Rugby World Cup-winning All Blacks in 2015.
Using rugby jersey fabric for a stamp that is perfectly useable for postage is an industry first and the feat has won international recognition from postal authorities and stamp enthusiasts. Adidas too has praised Southern Colour Print for the achievement.
In front of an audience of Pride In Print patrons and sponsors, Otago printing industry stalwarts and representatives from New Zealand Post, Mayor Cull congratulated Southern Colour Print for showing how an Otago company can successfully compete on the international business stage.
"Dunedin is renowned for leading the way in business creativity, innovation and excellence.
"Southern Colour Print's achievement in winning this coveted award exemplifies these qualities and reinforces Dunedin's reputation as one of the world's great small cities – an internationally competitive and growing knowledge centre," Mr Cull said.
Head of Stamps and Coins at New Zealand Post, Simon Allison, says they were proud to work in partnership with Southern Colour Print to deliver this innovative stamp. "The 'can do' attitude displayed by Southern Colour Print enabled this seemingly-crazy stamp idea to become a reality," he said.
Pride In Print Awards Manager Sue Archibald said the entry had been a perfect showcase for the quality and ingenuity of the New Zealand printing industry.
"The stamps also won the Industry Development Category of the Awards, which is the platform to present innovative and avant garde techniques. This is ground-breaking technology – the judges asked 'what is it?' when they first picked up them up.
"Closer inspection showed the stamps featured mini cut-outs of the World Cup-winning jersey.
"The out-of-the-box thinking in using the materials worn by Richie McCaw, Ben Smith, Kieran Reid and company simply stunned the judging panel. Stamp production will never be the same again after this."
Southern Colour Print Southern Colour Print has won wide endorsement for its extremely-high quality, printing stamps for postal authorities internationally.
For further information, please contact Sean McMahon, Managing Director Southern Colour Print Ph 03 455 0554 Mobile 021 474704 and Pride In Print Awards Manager, Sue Archibald Mobile (021) 663-881.
PAST PRESS RELEASES:

Entry moves into the last week for the 2020 Pride In Print Awards
« Read more

Early Pride In Print Awards Entry level up 70%
« Read more

05/11/2019


2020 Pride In Print Awards Entry Changes
« Read more

25/02/2019


50 & 100 Medal Club Press Release
« Read more

Celebrating the Best of the Best
« Read more

26/04/2017


Outstanding print innovation praised by awards judges
« Read more

18/01/2017


Pride In Print article for print trade media (January 2017)
« Read more

30/06/2016


« New Zealand Pride In Print Awards Release June 28 2016


31/05/2016


New Zealand Pride In Print Awards Release May 2016
« Read more

31/05/2016


Statement from the Pride In Print Awards
« Read more

14/05/2014


New Supreme Award Trophy Unveiled
« Read more

27/02/2014


New supreme award trophy
« Read more

01/11/2013


Pride In Print Winners Claim World Stage
« Read more

14/10/2013


Pride In Print welcomes new patrons
« Read more

17/05/2013


Christchurch Couple Rise from Quake Ashes to Business Pinnacle
« Read more

10/05/2013


Printing Innovation to Forefront at Pride In Print Awards Night
« Read more

01/04/2013


Celebrity Speakers to Front Pride In Print Awards Night
« Read more

AWARDS NIGHT POSTPONED
« Read more